Cryptics of The Enigma
With Trazom, I edited hundreds of cryptic crosswords for the NPL's monthly magazine The Enigma. Some of the best among those puzzles are in the book National Puzzlers' League Cryptic Crosswords (edited by Joshua Kosman and Henri Picciotto; Random House, November 2005 -- now available for free on the NPL Web site.)

NPL members who would like to construct cryptics for The Enigma should heed these guidelines.
I challenged US cryptic conventions in this article I wrote for The Enigma (January 2016).
---
From the Guide to the Enigma, read:

Trazom on solving cryptic crosswords
Sibyl on constructing cryptic crosswords for The Enigma
me on Sharing the Fun

The best part of my (now somewhat dated) 1992 thoughts on cryptic crosswords was excerpted here.
---
Harth
Between 1988 to 2014, I constructed dozens of cryptic crosswords with the late Arachne (aka Rebecca Kornbluh. Not to be confused with the British setter with the same nom.) We were both fans of Ursula K. LeGuin's science fiction. Our combinom, Harth, was the name of a genderless character from the novel The Left Hand of Darkness, who lived on the planet Winter, in the Milky Way.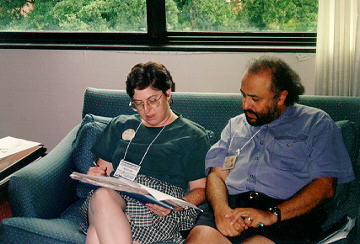 As Harth, we were the first US constructors to create cryptics where the clues were tampered with, the first to have city-themed cryptics at NPL conventions, and the first to submit variety cryptics in large numbers to The Enigma. Since then, constructors of enormous ingenuity have burst onto the NPL scene, and no US cryptic fan should be without a subscription to The Enigma.
Variety cryptics by Harth (and solutions, in most cases)
Advice to Solvers (sol) | Alf-Normal (sol) | Base Fiddles (sol) | Big Sky (sol)
Conventional Wisdom (sol) | Drawn and Quartered (sol) | Election | Gone with the Wind (sol)
Hell! (sol) | Items We Found (sol) | Just the Opposite! (sol) | Laconic Sections (sol)
Musical Recreation (sol) | Pangram (sol) | Party! (sol) | Perfectly K. Lear (sol) | Police Raid (sol)
Roman VIII (sol) | San Diego! (sol) | Slightly Damaged (sol) | Team Effort (sol) | The Big Apple (sol)
This and That (sol) | Universal Product Code (sol) | User-Friendly (sol) | Vancouver Pattern (sol)
What Am I? (sol) | Word, Chain, Letter, Change (sol) | You Must Re-Member This (sol)
---
Picture Puzzles
In 1999, I made a presentation on cryptic crosswords to the joint meeting of the 58th National Congress of Classical Puzzling and the 20th Convention of the Italian Rebus Association, in Verona, Italy:

(English translation by Serendipity ← a good introduction to cryptics for beginners)

Soon afterwards, I made a presentation to the NPL convention on Italian puzzling. This helped bring picture puzzles to The Enigma.
Here is a picture rebus illustrated by Crax (enumeration: 6 6)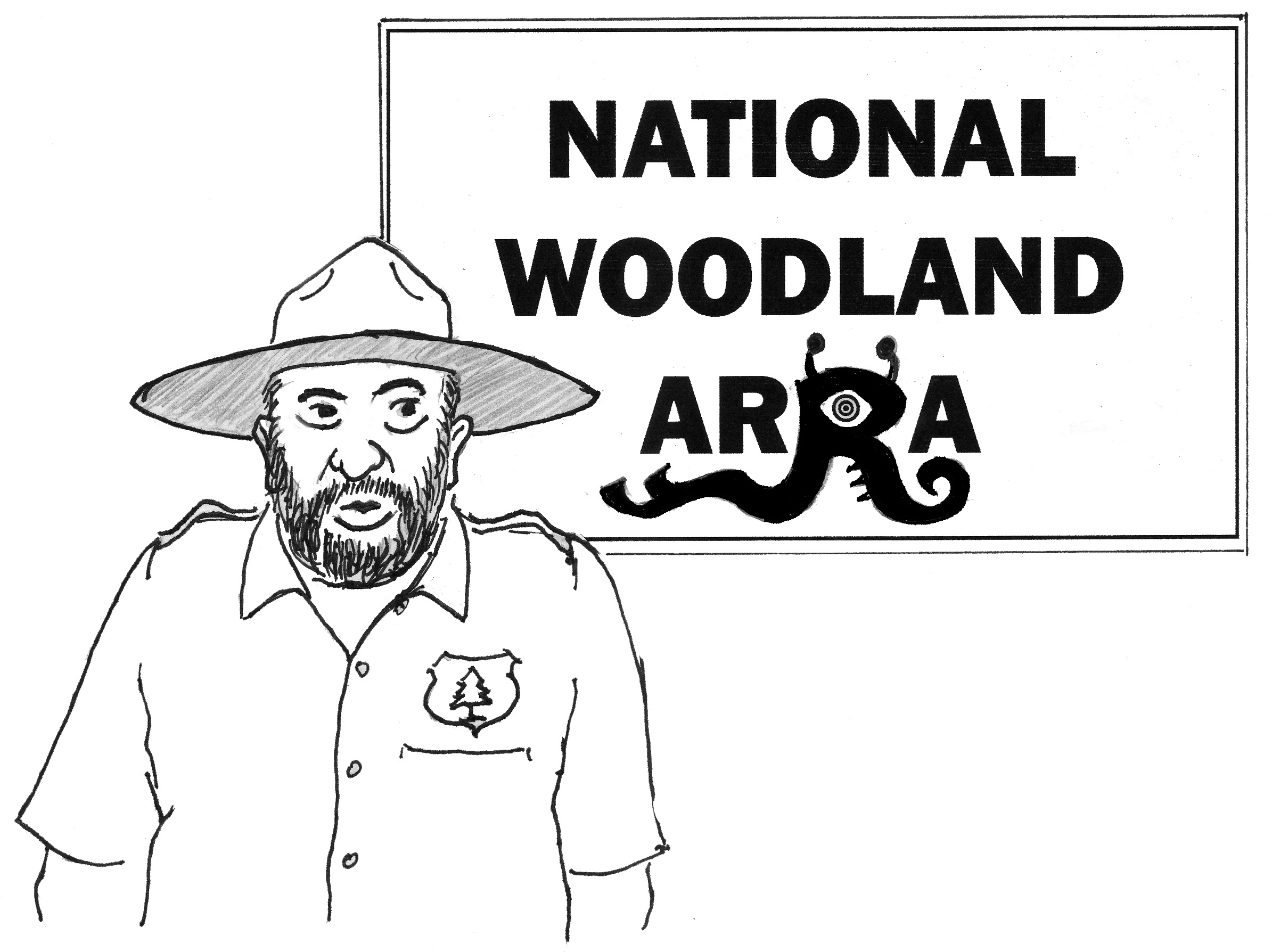 Mouse over here for the answer.

for E, strange R → forest ranger